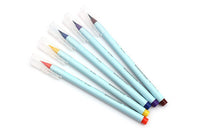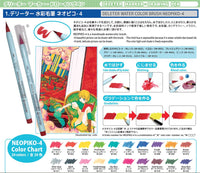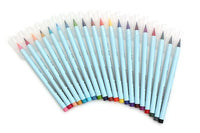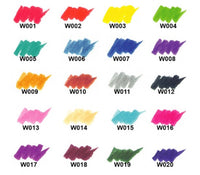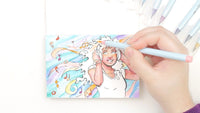 DELETER
DELETER Neopiko-4 Watercolor Brush Pen - 5 Colors C Set (Orange, Yellow, Ultramarine, Purple, Dark Brown)
DELETER Neopiko-4 Watercolor Brush Pen - 5 Colors C Set (Orange, Yellow, Ultramarine, Purple, Dark Brown)
NEOPIKO-4 is handmade watercolor brush. This is widely used for watercolor sketch, coloring, illustration in comics, letter arts, postcards, and calligraphy. Use these brush pens to create a variety of beautiful watercolor effects. 
This set includes 5 colors:
W-002: Orange
W-003: Yellow
W-007: Ultramarine
W-008: Purple
W-018: Dark Brown
TUTORIAL:
INSTRUCTIONS: 
1. Dip the brush in water, then draw to create beautiful shading.
2. Draw with the brushes first, then go over them with a water brush to create blurring and wash effects in specific areas.
3. Wet the paper and draw on it before it dries to create a soft spread of color.
4. Draw with two or more colors, then blend them together with a water brush to create color gradations.
5. Mix colors on a palette to create new colors!
FEATURES: 
Non-toxic, Water-based, dye-based ink
Blendable colors
Handmade brush tip, made of special fibers for great elasticity and shape retention