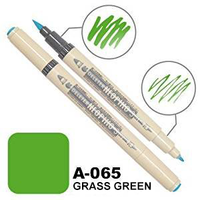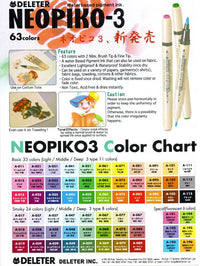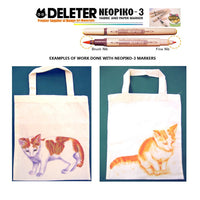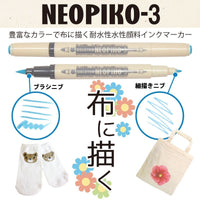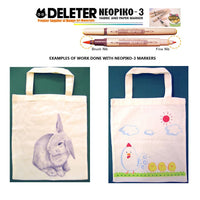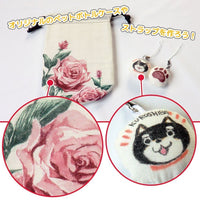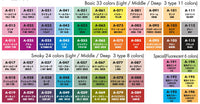 DELETER
DELETER Neopiko 3 Grass Green (A-065) Dual-tipped Water-based Fabric Marker
DELETER Neopiko 3 Grass Green (A-065) Dual-tipped Water-based Fabric Marker
DELETER Neopiko 3 markers are an excellent tool for the aspiring illustrators and professional alike. These markers deliver a level of performance similar to that of other high quality brand name markers at a lower cost. Whether you are illustrating on paper, garments, and other fabrics, the NEOPIKO-3 markers have resilient ink that won't fade, smudge or wash away. The NEOPIKO-3 marker is a non-toxic, acid-free, water-based pigment ink that dries instantly. You can blend your color with water if desired before the ink dries.
Colors included in the package:
FEATURES:
63 colors with 2 nibs - brush tip & fine tip
Water-based pigment ink that can also be used on fabric
Excellent lightproof & waterproof stability once dried
Can be used on a variety of papers, garments (t-shirts), fabric bags, towels, cottons & other fabrics
Color is fixed once dried. Washing will not remove color or fade color
Non-toxic, acid-free & dries instantly
CAUTION:
Please store pen horizontally in order to keep the uniformity of pigment. Otherwise, there is a possibility that the color irregularity happens.
Made in Japan by DELETER
"DELETER" is the premier manufacturer of comic art materials in Japan.
since 1984, as a result of constant developing and improvements, DELETER products have been a major art material supplier to both art schools and professional Japanese comic artists. Their products are available at over 500 stores in Japan and exported worldwide to over 86 countries.