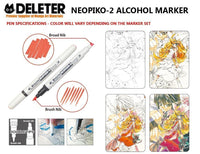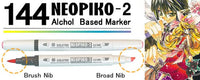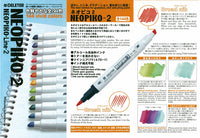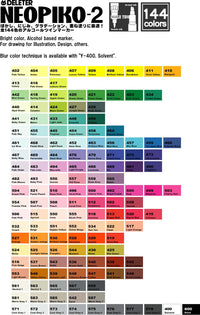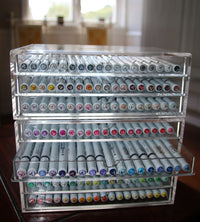 DELETER
DELETER Neopiko-2 Dual-tipped Alcohol-based Marker - Baby Green (441)
DELETER Neopiko-2 Dual-tipped Alcohol-based Marker - Baby Green (441)
NEOPIKO-2 markers are excellent tool for the aspiring illustrators and professionals alike. These markers deliver a level of performance similar to that of other high quality brand name markers at a lower cost. 
REVIEW & DEMO:
THIS SELLS AS SINGLES:
BROAD NIB:
Broad and firm nib allows you to draw wide straight lines beautifully. When you use the edge of the broad nib, you can draw thin lines.
BRUSH NIB:
Brush nib is flexible and brush touch. You can control the thickness as you draw. 
FEATURES:
Refillable ink
Color range designed to correspond with Pantone system
Doesn't melt the screen toners
Selection of 144 BRIGHT colors

Available in 3, 6, 12, 24, 36, 72 color sets, as well as individuals.

Once dried, the ink is waterproof and light stable
Gradation can be achieved using the color Y-400 (solvent)
CAUTION:
It is recommended that you store the markers horizontally on a flat surface to maintain ink uniformity inside the reservoir.
Made in Japan by DELETER
"DELETER" is the premier manufacturer of comic art materials in Japan.
since 1984, as a result of constant developing and improvements, DELETER products have been a major art material supplier to both art schools and professional Japanese comic artists. Their products are available at over 500 stores in Japan and exported worldwide to over 86 countries.